The first of the "frequent fails" that we have actually been guilty of ourselves is the so-called "Birka pouch". This is a pouch with a specific set of bronze mounts, please refer to this illustration in Birka II:1.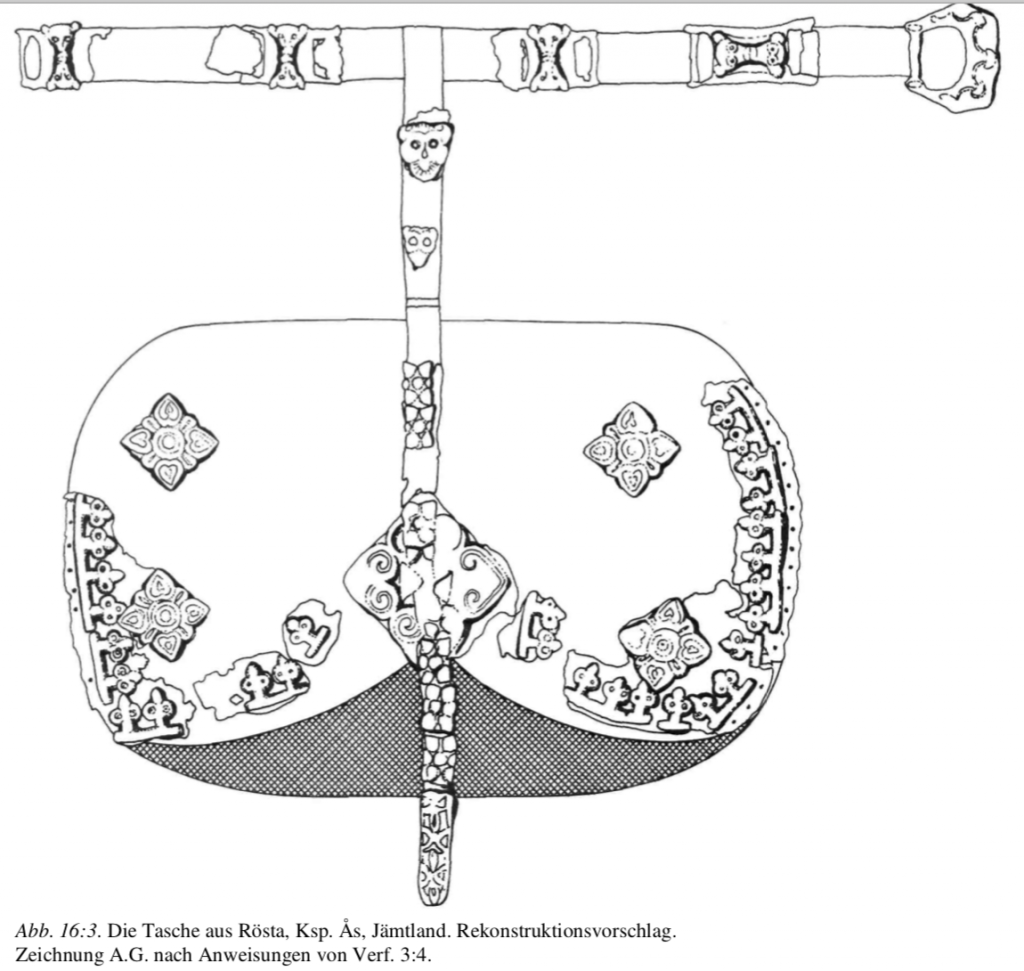 There are three things often wrong with this pouch:
It is not actually from Birka. The mounts were found in Rösta, Jämtland, as the caption clearly states. It's mentioned in the Birka books because similar mounts, namely the center mount, the star-formed mounts and some of the mounts on the strap, have been found in Birka. These mounts were, however, found in more than one graves so that not even under ideal circumstances this specific pouch could be replicated solely with Birka finds.
The form is incorrect and does not conform to the mounts. The mounts are clearly Tarsoly mounts (see here, here, here for Tarsoly examples), and the form of a tarsoly is clearly evidenced by archaeological finds, iconography and even traditional dress in Hungary up to the 19th century. Tarsoly, for those who are unaware, are the pouches used by the Magyars since the early medieval age, and there are literally dozens of finds from all over Eastern, Central, and North Europe (Denmark and Sweden).
This is an error made by the author of the paper in Birka II, and is probably due to the fact that this form of pouch was popular in the Vendel age (?) and in the late medieval. However, the author seems to not have had contextual information about the fashionable tarsoly which undoubtedly entered Sweden as an exotic accessoire, or even as a symbol of rank and status.
The reconstruction attempt in the drawing above was first challenged in Fornvännen 2006 (Link), when Inger Zachrisson presented a reconstruction which shaped the pouch more like a tarsoly.
The size is often exaggerated: Tarsoly shouldn't be larger than maybe 12 by 12 centimeters, while many reproductions are easily large enough to fit a CD in. Rule of thumb: If your smartphone fits, the tarsoly is quite likely too large. 😉
It should also be noted that tarsoly are not "viking pouches". They are part of the orientally influenced attire of a Scandinavian who was in direct contact with, or under heavy influence of Eastern peoples. If you want to do a "norse viking" kit, you should probably steer clear of these, as well as of belts like the one from Birka Bj 716.
What do you think should be covered next in this category? Feel free to comment here or on Facebook!