This night, I was alerted by my friend Gudred to a posting made by Sergey Kainov, senior researcher at Moscow's State Historical Museum[1]Sergey Kainov profile page, available online: https://shm.academia.edu/SergeiKainov, about an interesting piece in an online auction site.
The piece of jewelry is a viking-age "weather vane" of which many examples exist. Tomas Vlasaty has taken great pains at cataloguing them here: Scandinavian weather vane jewelry (CZ) [2]Tomas Vlasaty, Skandinávské spony s korouhvičkou, available online: http://sagy.vikingove.cz/skandinavske-spony-s-korouhvickou/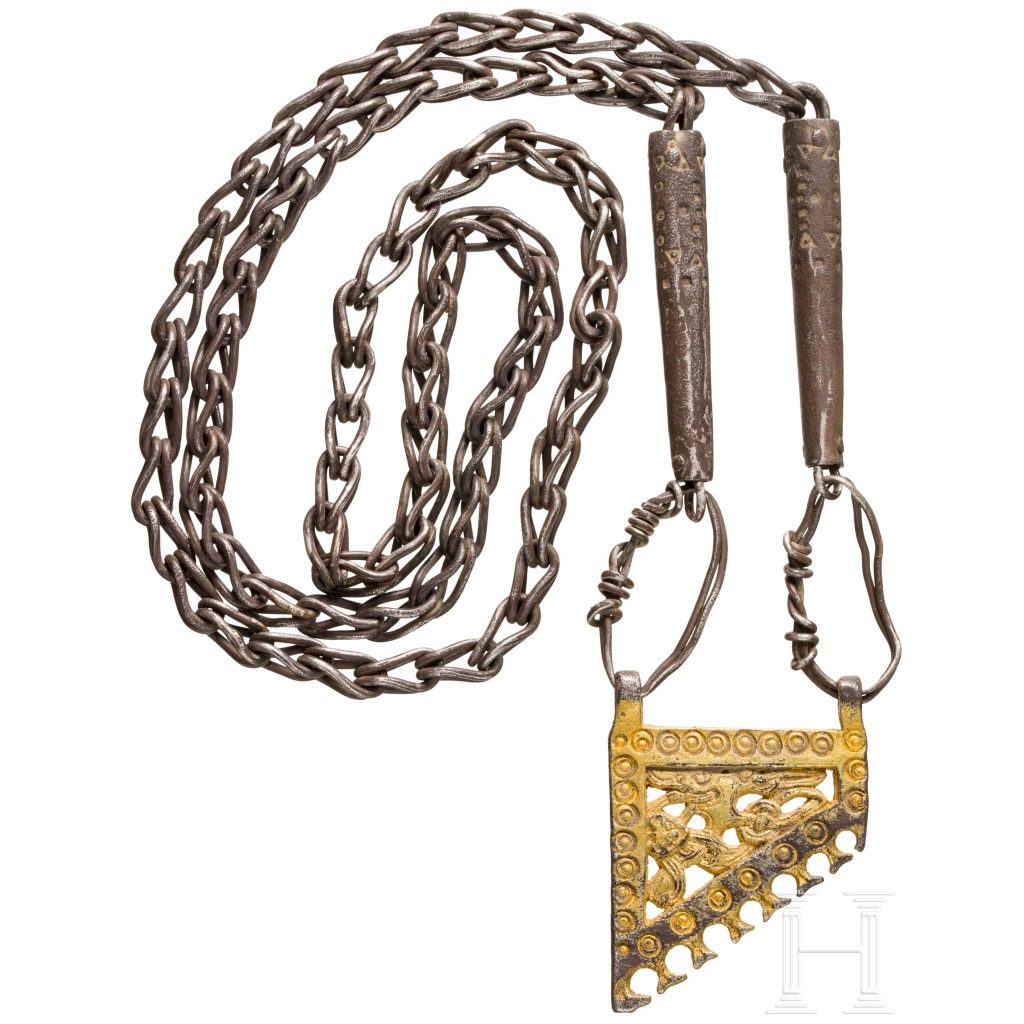 The weather vane is gilded silver and rather typical for this kind of item. Its usage is atypical though – the evidence usually pointed towards these items being used as dress pins, much alike to the "Birka Dragon" pin, as shown in these two reconstructions made by Gudred.
The silver chain and rings look like something which could have been made in the viking age. The chain is classified as "Type 6" by Arwidsson in Birka II:3[3]G. Arwidsson, "Ketten", Birka II:3, pp73-78, here: p74. Kugl. Vitterhets Historie och Antikvitets Akademien, 1989. ISBN 91-7402-204-0, and it is the third most frequent type of chain in Birka (with 12 finds from the graves).
The chain terminals could be from the viking age, too. However, they look a bit "off" to me. A silver pendant like this, which was also gilded, was certainly an expensive piece, and re-using it as a pendant underlined that value.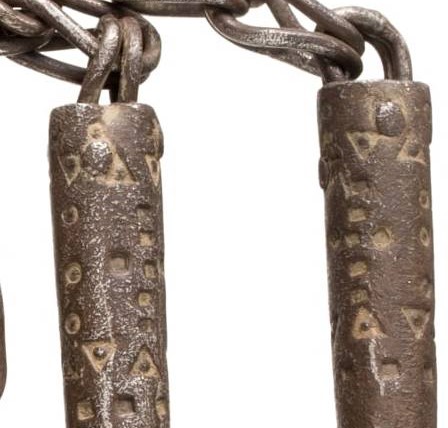 The craftsmanship of the terminals, which are essentially cylindrical pieces of metal sheet, is not too impressive, and although it has some typical decoration (punched triangles with a dot in the center), I would say that it was maybe added at a later date, possibly in the medieval age. In any case, it's my opinion that the chain and pendant is a secondary usage for the weather vane.
Provenance
The piece is from "Lithuanian art dealership", which is a quite shaky provenance. We have numerous examples of illegal looting in the Baltics and viking-age graves are especially affected by this. A piece in excellent condition like this one, with very peculiar properties, like this one, and an unclear provenance, like this one, looks "too good to be true". I am unsure if the auction site offers more detailed documentation for prospective buyers, but I would be wary of this item.
I'm deliberately not linking the auction itself – if you want to find out about it, I am sure you can google it. 🙂
What do you think?
Is this an original? Is it a fake? Do you know of other finds like this (especially with these chain terminals)? Write me in the comments!